A side hustle. A job second to your main one. A passion project. Something that lights your fire, drives you creatively and fills your cup. Do you have one? Our COO Nikk does, and this week's blog is all about the big project he's been hustling on the side for the last few months. Read more to find out!
In an effort to show you more of the people behind our business, I thought that in this week's blog I could bring you something entirely unrelated to marketing or the good work that we do at Oracle Tree.
A little look at my "side hustle". 
I use the quotation marks because I grimace when I say the term.  You see, for the past 23 years (prior to 2020), I ran a rehearsal and recording studio/PA hire company on Sydney's Northern Beaches (along with my business partner who also happens to be Oracle Tree's Chief Financial Officer, Paul.) The studio was known as Continuumusic and we were one of the longest running studios in the area.
As lifetime musicians, it was never a side hustle for Paul or I.  It was our main source of income for many years.  The music industry however is not what it was when we started and the business was certainly in decline.  But "side hustle"?  No.  It didn't make a lot and most would consider it a passion project and nothing more but it was ours, built from scratch and run successfully right up until such time that it wasn't.
Nikk and Paul performing with 'Angry Anderson' on Manly Beach in 1998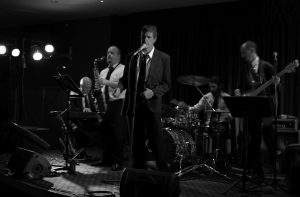 The jazz